Füdie
The curated search for dining out.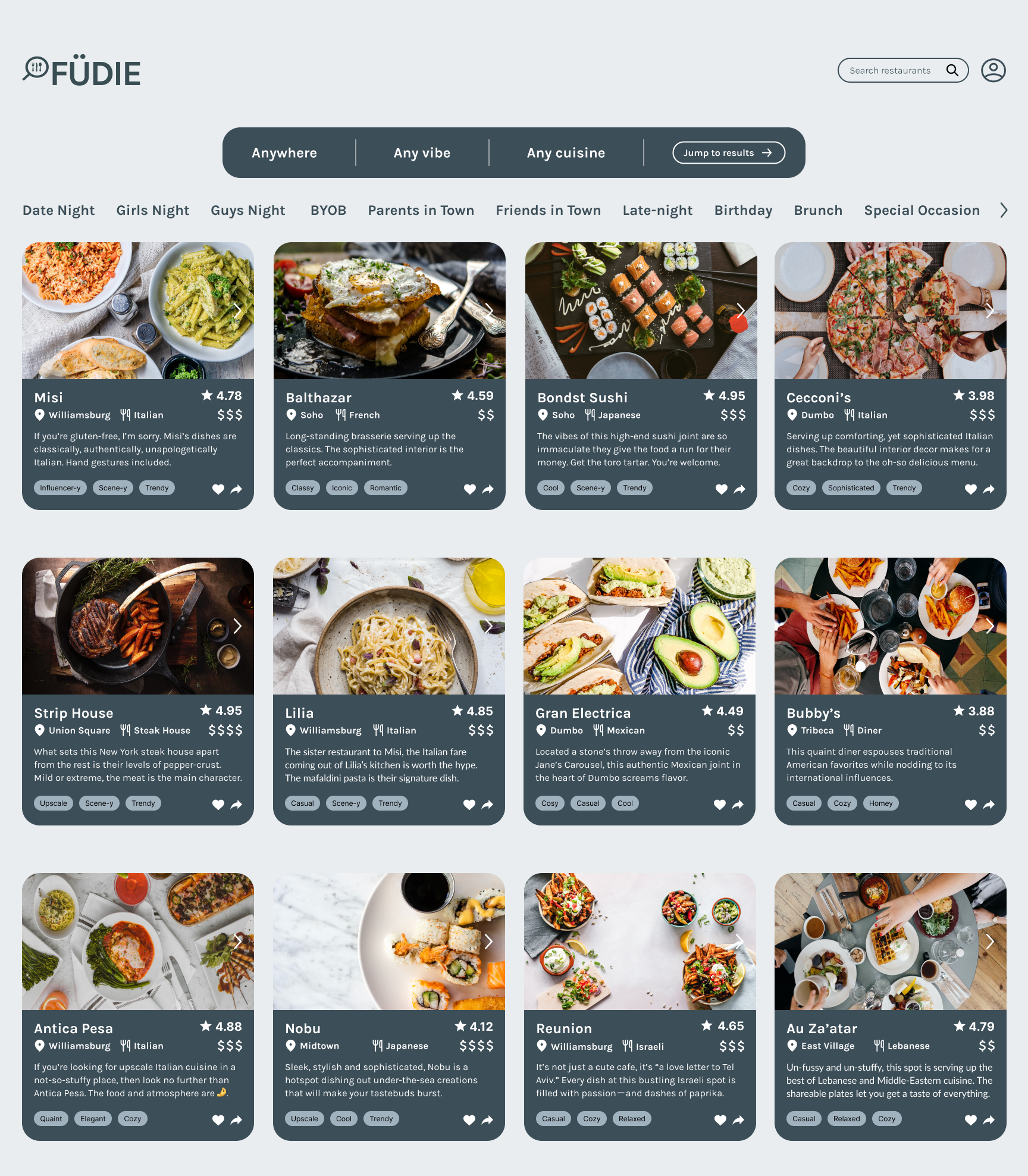 Making hard-to-find restaurants not so hard to find.
Füdie makes the search for restaurants a fun process of discovery with the user at the center of the journey. Our purpose (yes, our purpose) is to make lesser-known, under-the-radar restaurants easier to find in today's overwhelming digital landscape. We're helping foodies take back their search!
Problem
Some restaurants in megacities like NYC are challenging to come across because search engines like Google and Yelp have monopolized the market. These big data companies give top spots to restaurants that can afford to pay for advertising slots and SEO rankings, leaving other smaller establishments with the short end of the stick. Not fair right?
Solution
Füdie doesn't just provide a list of restaurants. We provide a curated list of results based on our users' specific preferences. In other words, the list of restaurants is generated according to the filters selected, not on paid SEO or advertising. We're basically the anti-Google.
Team
fellow food-lover, Alison
My Role
UX research

Wireframing

UI design

User testing

Prototyping

UX writing
Timeline
Overall: 12 weeks

Discovery & Research: 7 weeks

Design & Testing: 5 weeks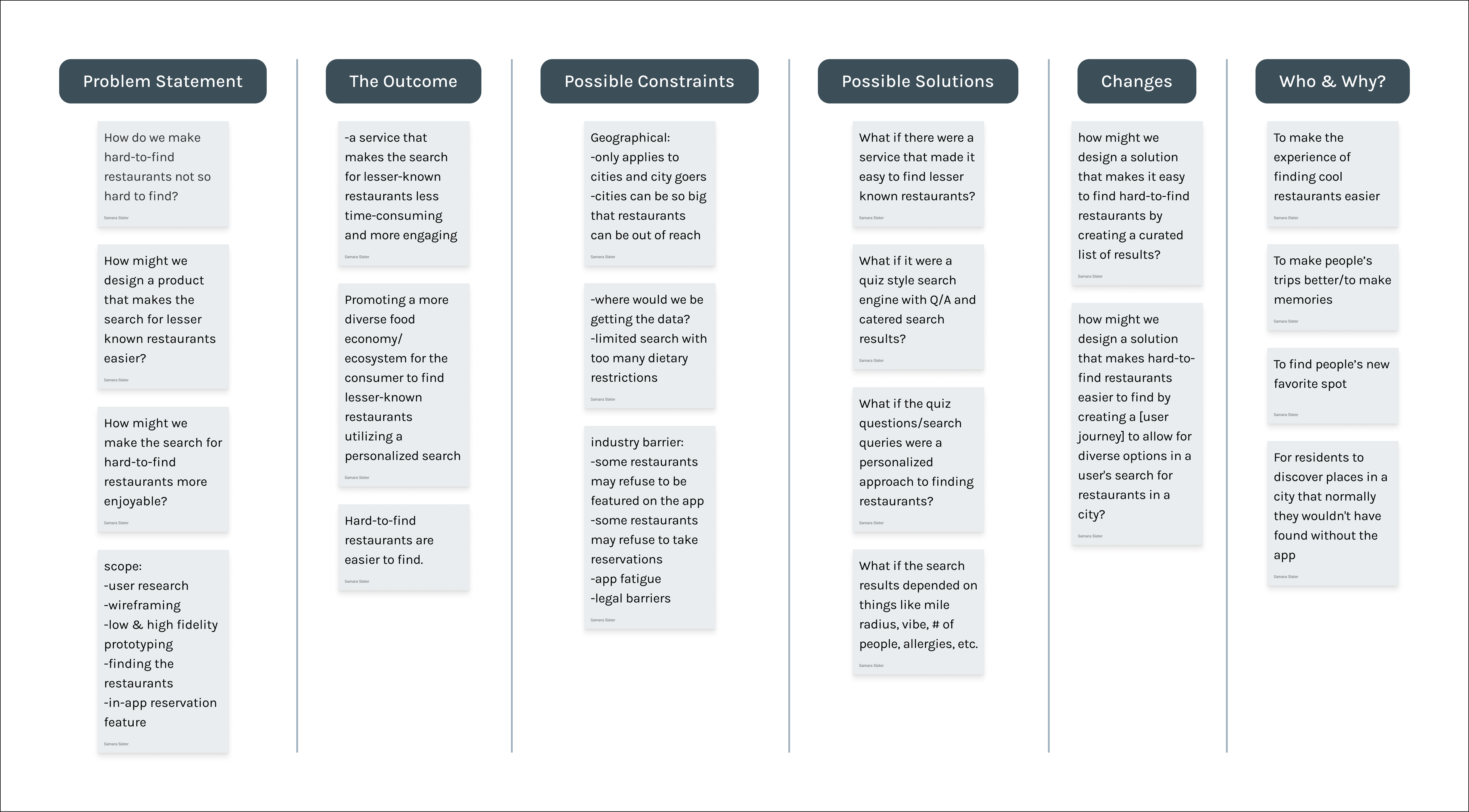 Defining the problem statement
We spent a lot of time collaborating in Mural to define our problem statement. We dissected our user problem from different angles to evaluate our initial statement: How do we make hard-to-find restaurants not so hard to find? We considered the scope, possible outcomes, constraints, solutions, revisions to our original question, and our target audience.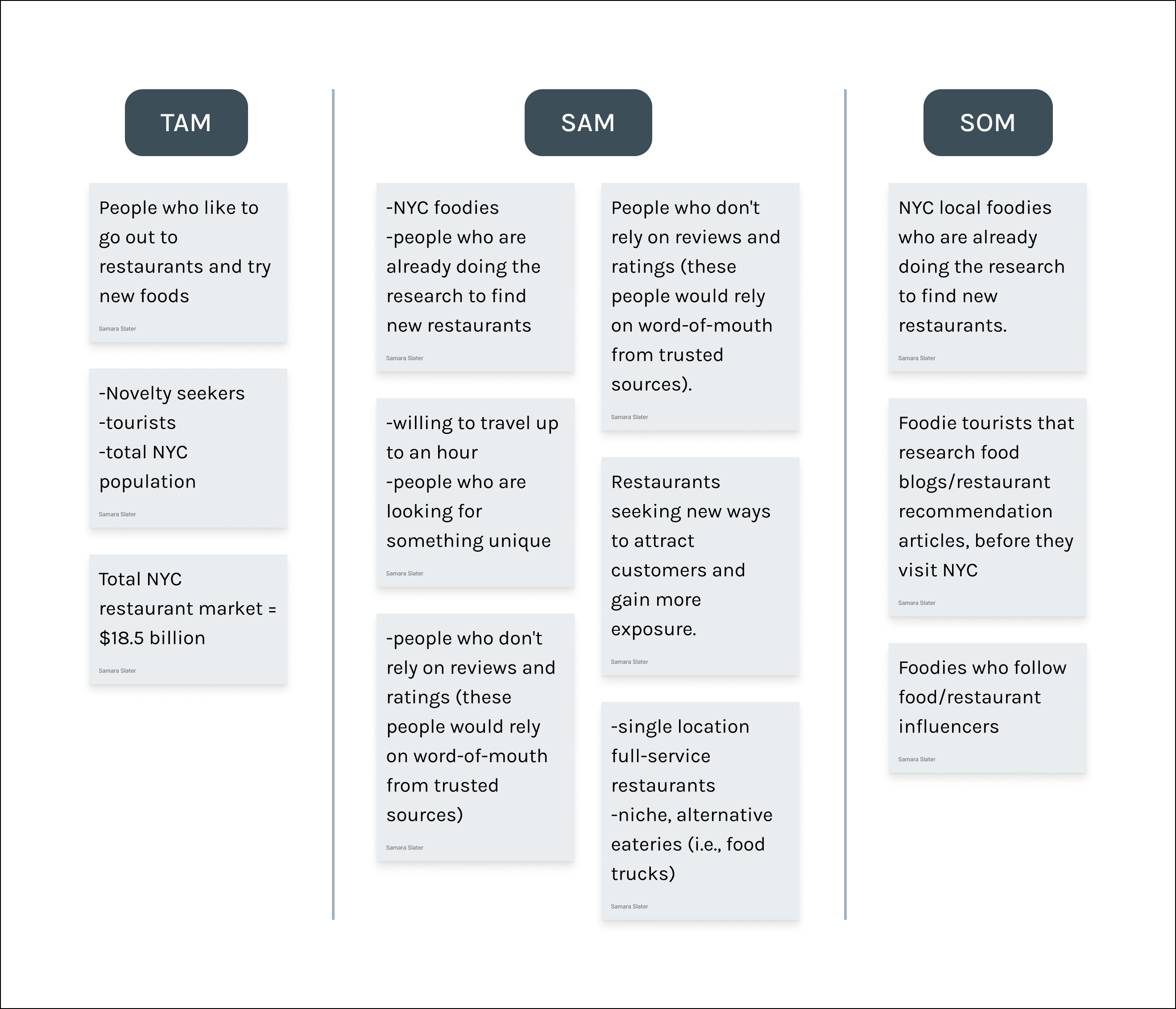 TAM, SAM & SOM
We defined the TAM (total available market), SAM (serviceable available market), and SOM (serviceable obtainable market) to define the scope of our target audience. This research helped us understand how our idea fits into the current landscape of the NYC restaurant industry.
We also conducted secondary research to gather data about the NYC restaurant industry that would not be obtainable through user interviews (i.e., quantitative data).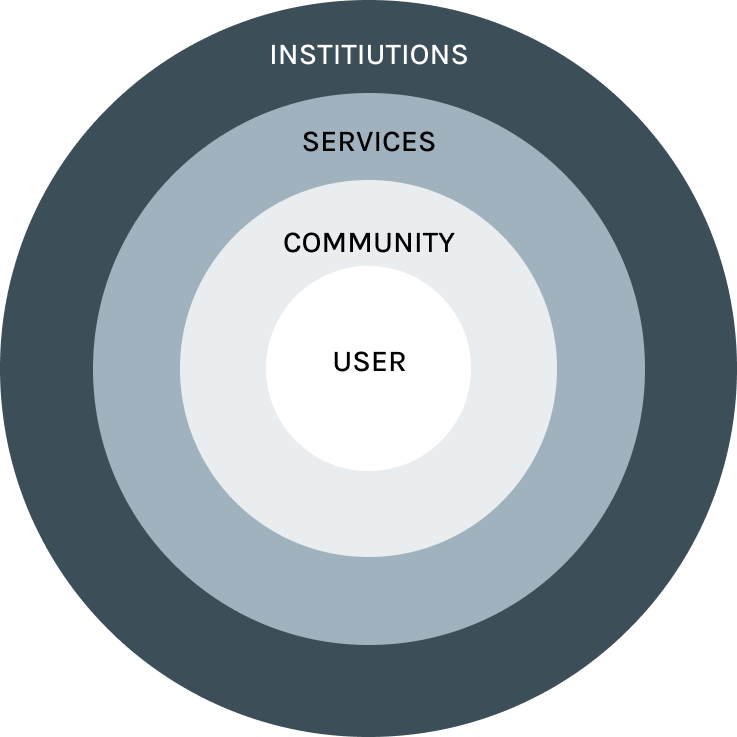 Ecosystem Map
After defining the TAM, SAM & SOM, we put together an ecosystem map to create a fuller picture of the context in which our target user exits. We considered the community, services, and institutions that are currently in place for them and looked at the relationships and dynamics between each. This helped set the stage for user interviews because it gave us a good idea of who to talk to and which questions to ask to get the best insights.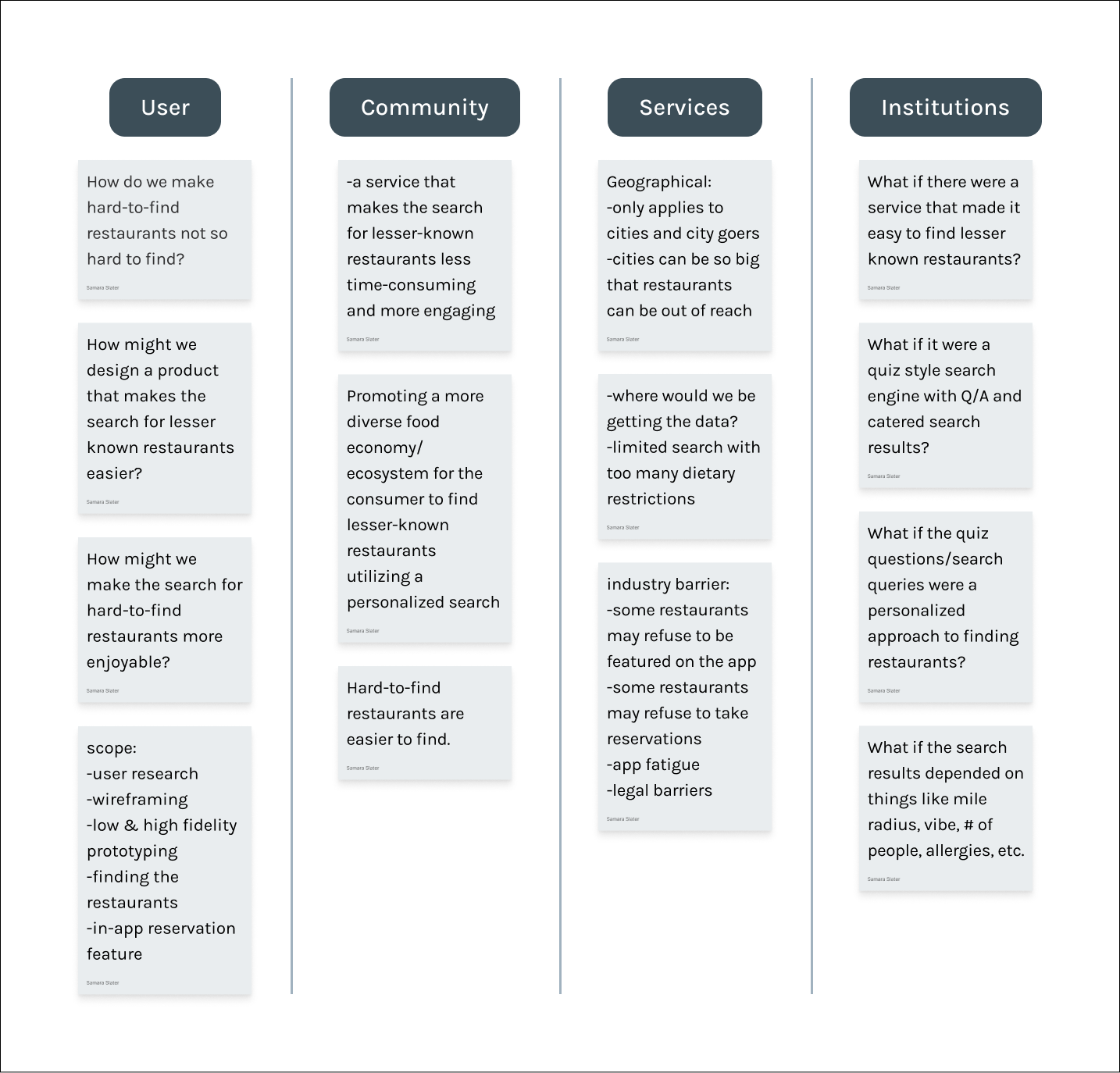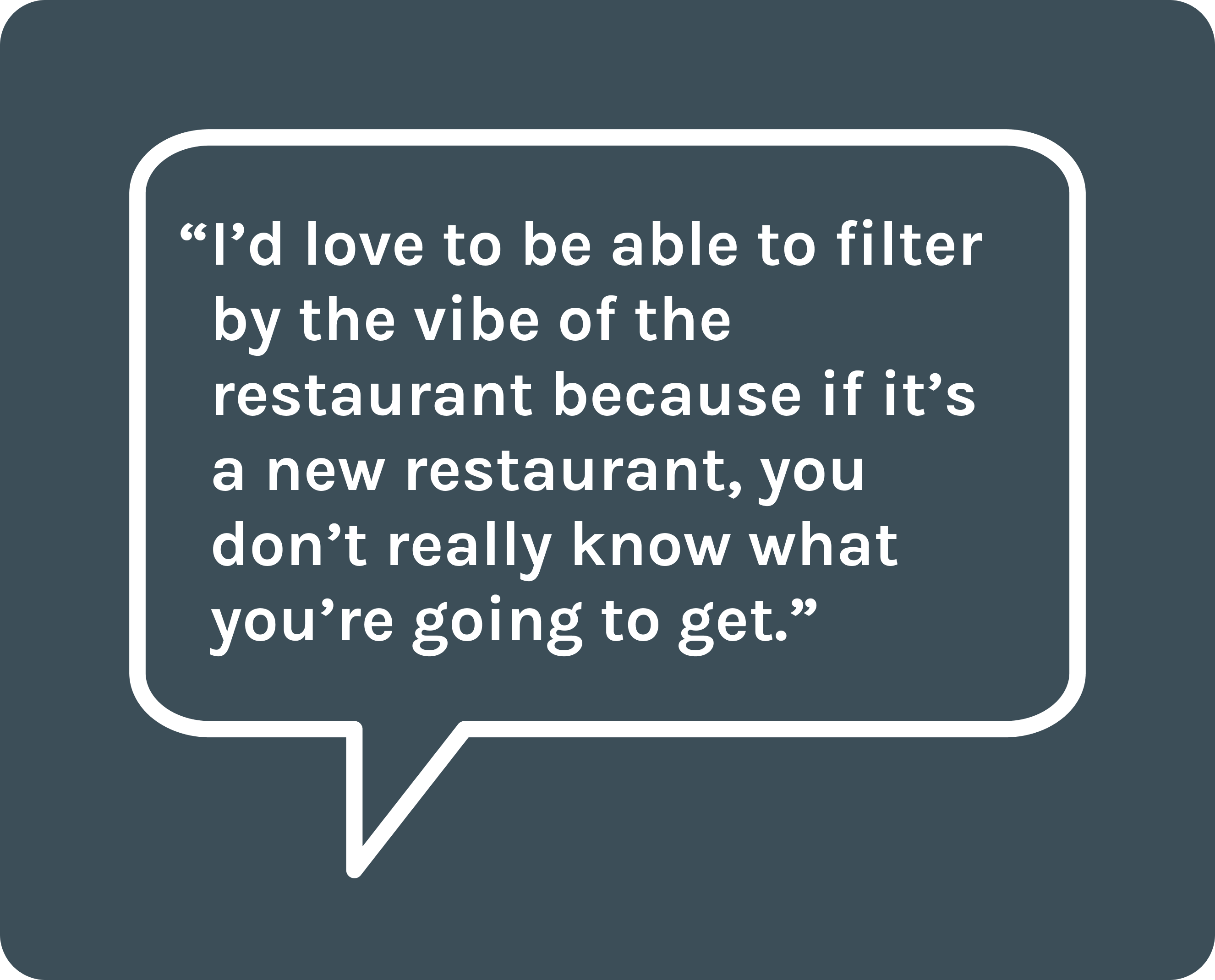 User Interviews
We conducted 11 interviews over Zoom with people who fit the profile of our target user. We asked our interviewees about their experience searching for a restaurant and dining out to understand their frustrations, dislikes, and preferences.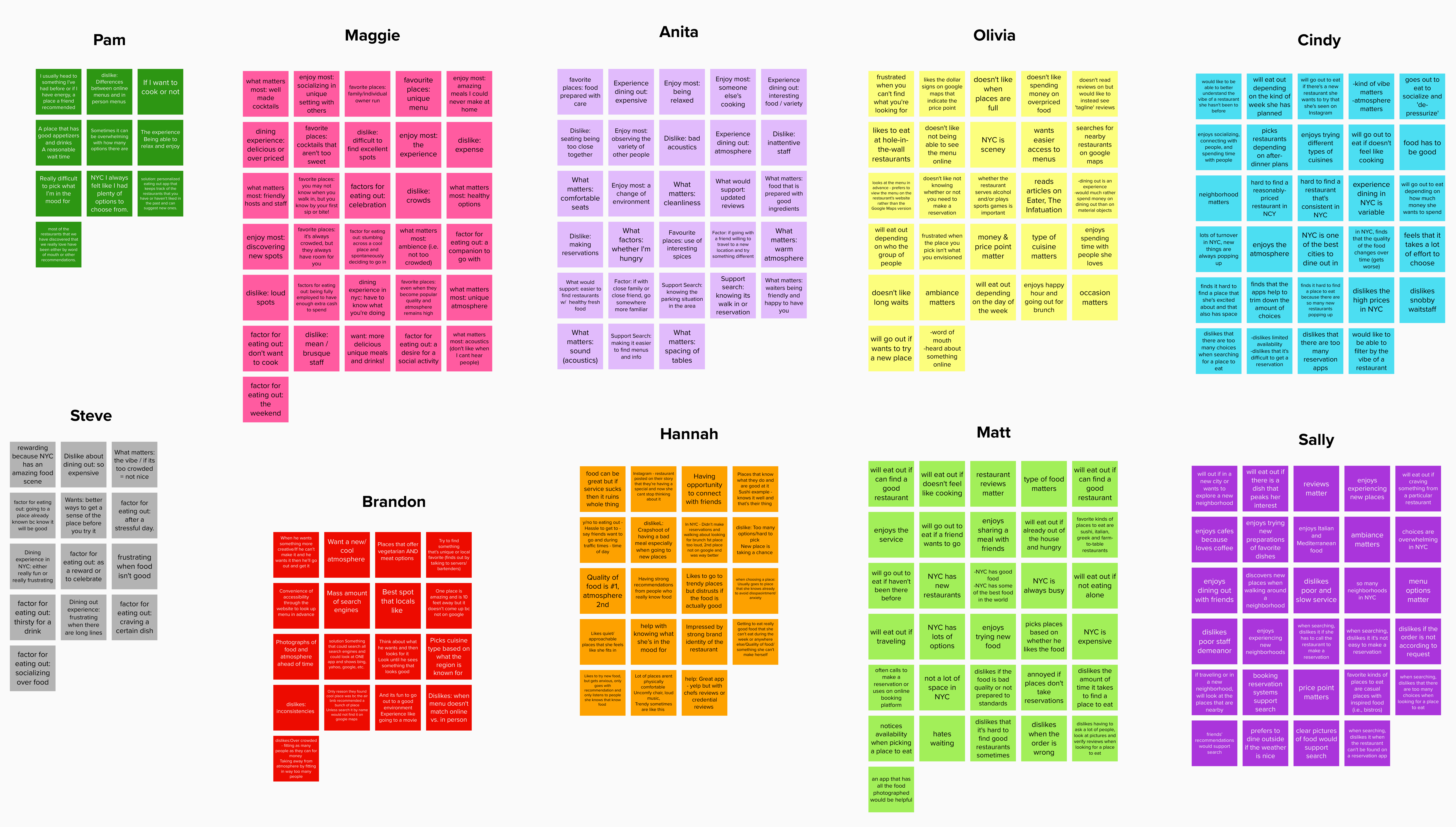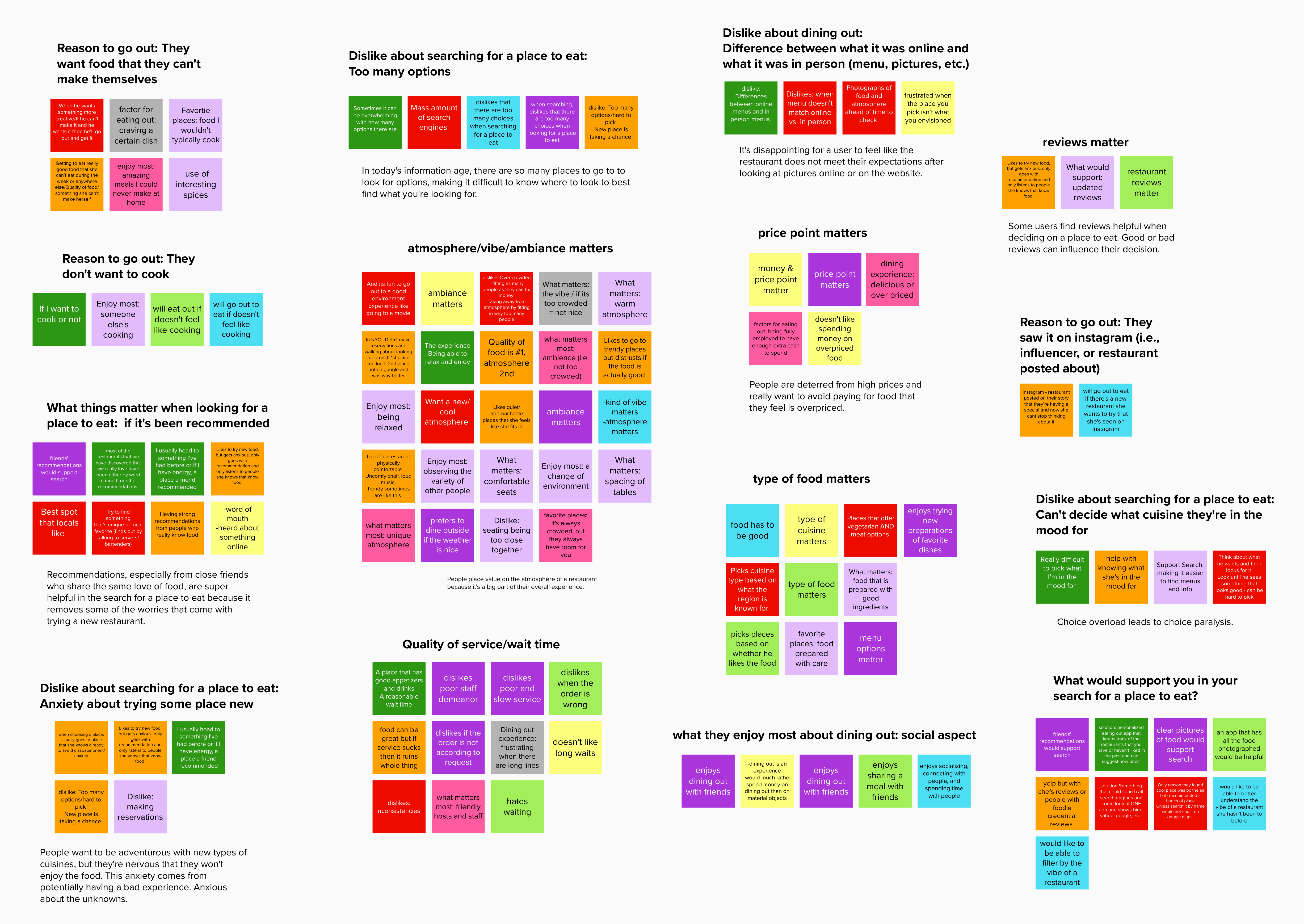 Analysis & Synthesis
We created an affinity diagram to look for related ideas across user responses and clustered them into a variety of themes. We looked at the clusters with the most stickies and summarized the themes with a one-liner.
Then we took it one step further and reframed our one-liners into "how might we" statements for our key insights. This helped us brainstorm what possible solutions might look like for our never-been-done-before food-finding concept.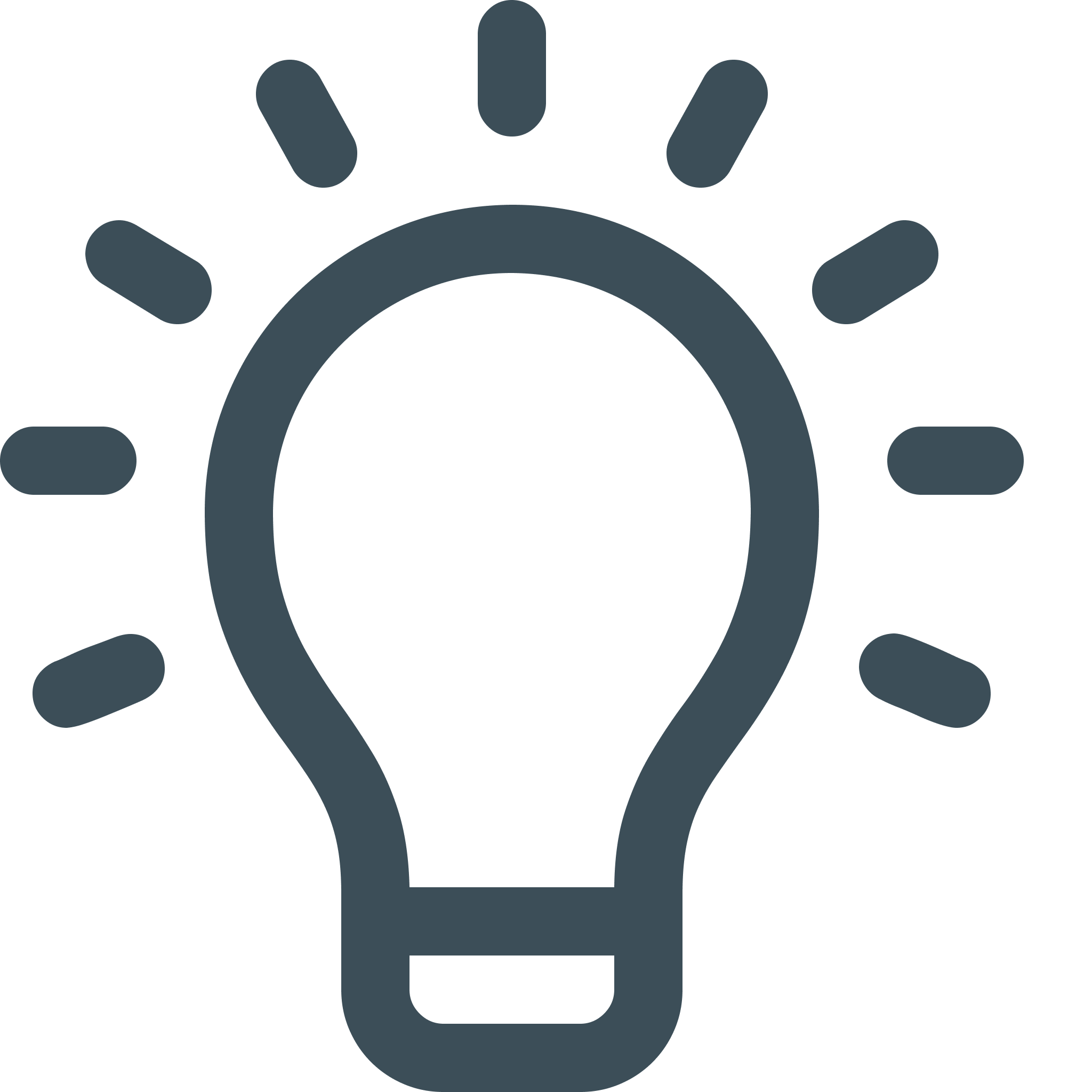 Key Insights:
How might we design an experience that allows users to filter on the kind of atmosphere they're looking for?

How might we design an experience that helps users gain an accurate understanding of the food and ambiance of a restaurant?

How might we design an experience that allows users to see a curated list of restaurants to ease information overload?

How might we design something that allows the user to not have to do any searching to find a place to eat?

How might we design something that allows the user to select from a curated list of options that meet their criteria?

How might we design something that allows users to be confident in their selection process?
User Personas
Based on the findings from our user interviews, we created three user personas to represent different archetypal users. User personas help bring our target users to life and design with their goals and needs in mind.
We also wrote a corresponding user scenario for each persona to contextualize their unique behaviors and decision-making process in the hunt for new restaurants.
Meet Ruby, Ryan, and Ruth.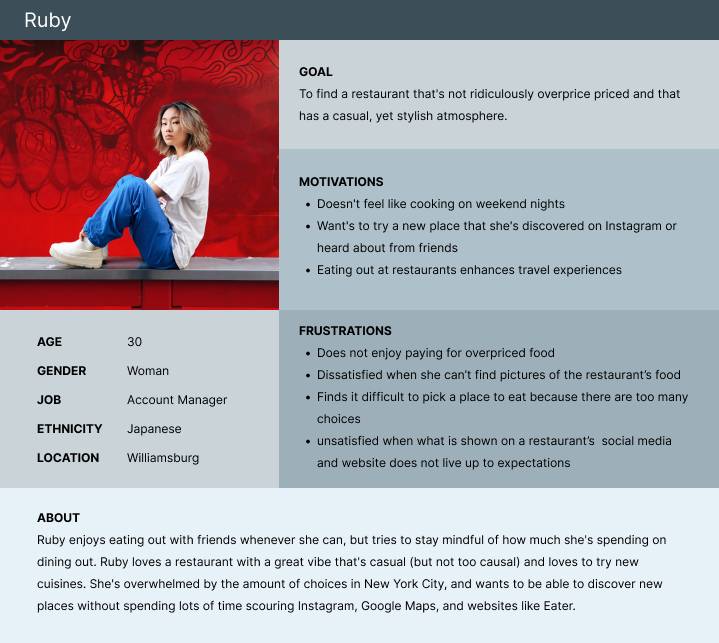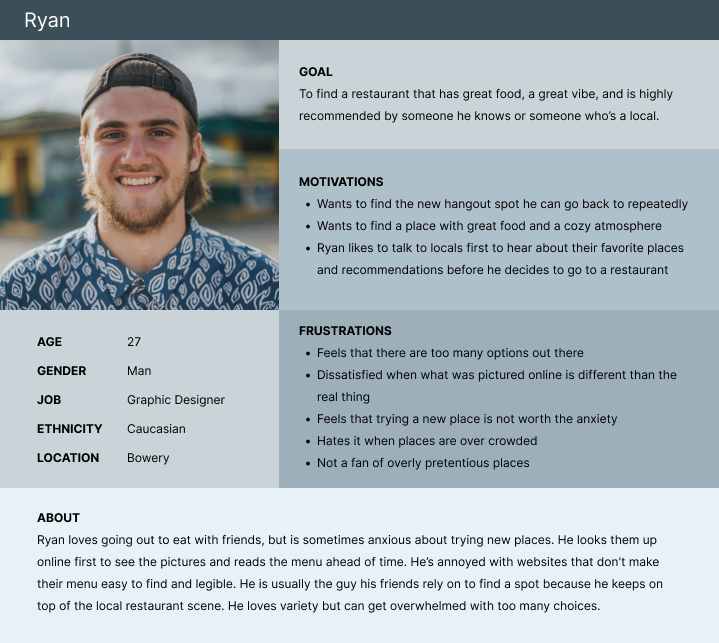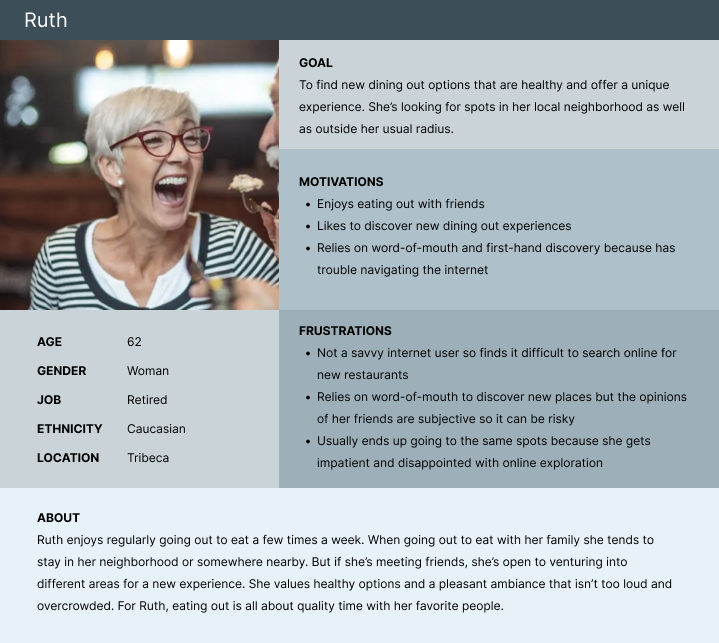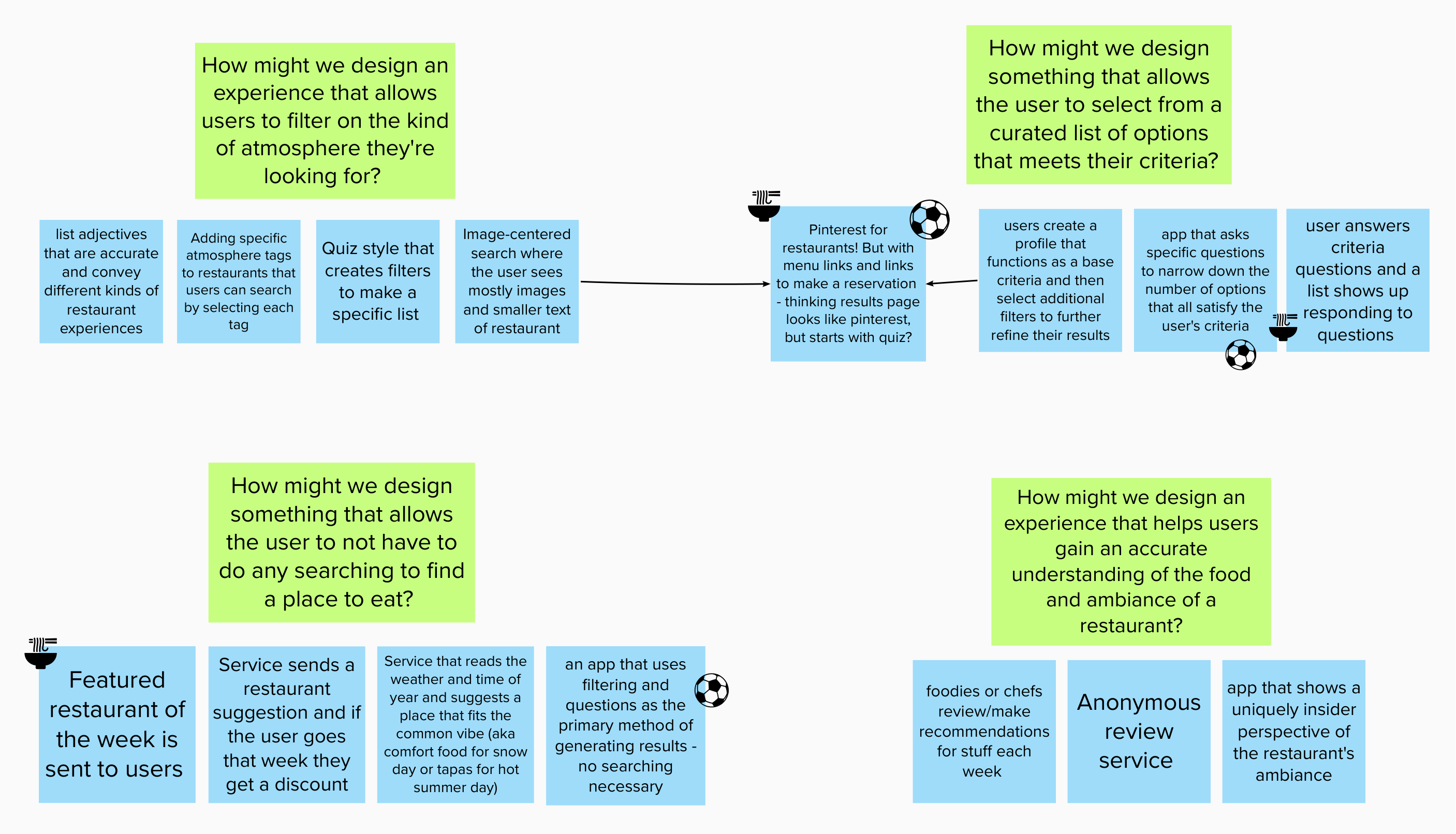 Spit-balling
To help us generate ideas, we started with our top 4 "how might we" statements and wrote our ideas for each statement on a sticky note. Then we took it to a vote: we each got three votes to help us identify the strongest ideas. This exercise allowed us to bounce ideas off each other, make connections, and come up with even better ideas. #collaboration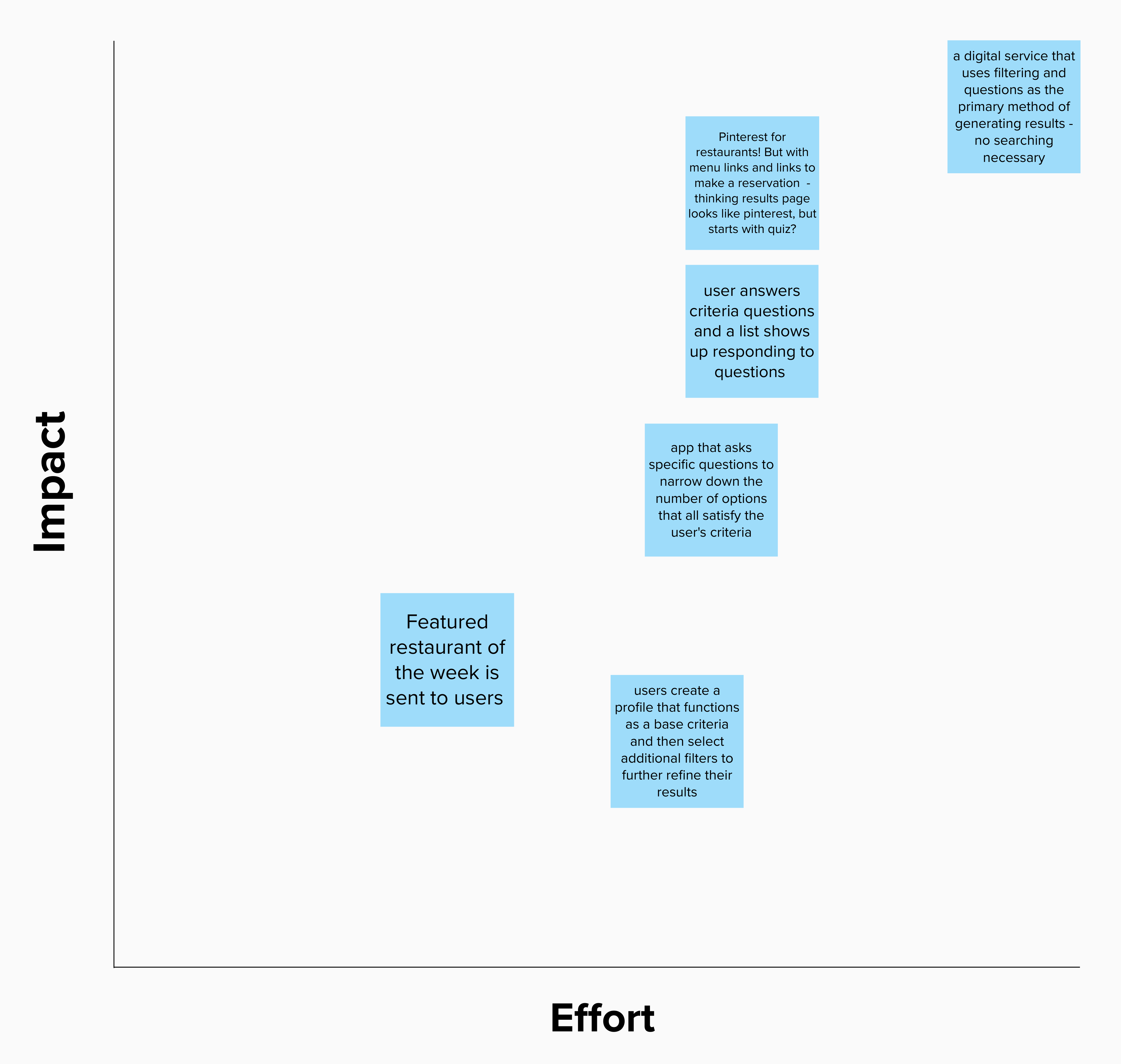 Prioritization
We used an impact/effort map to determine the most feasible concept. We agreed on a filter selection process to generate a curated list of restaurants that satisfy a user's specific criteria. It's our goal to make a product that delivers a personalized, user-centered experience. The best feature of this idea is that it minimizes the amount of brain power required to discover new restaurants by presenting the user with various filters to select. As a restaurant-finding enthusiast myself, I know that Google Maps and Yelp can get exhausting.
Service Design Blueprint
To understand the steps required to make our idea actually work, we mapped out the user journey using a service design blueprint to visualize the front and backstage components. This enabled us to identify the relationships between each part of the user journey and our digital product.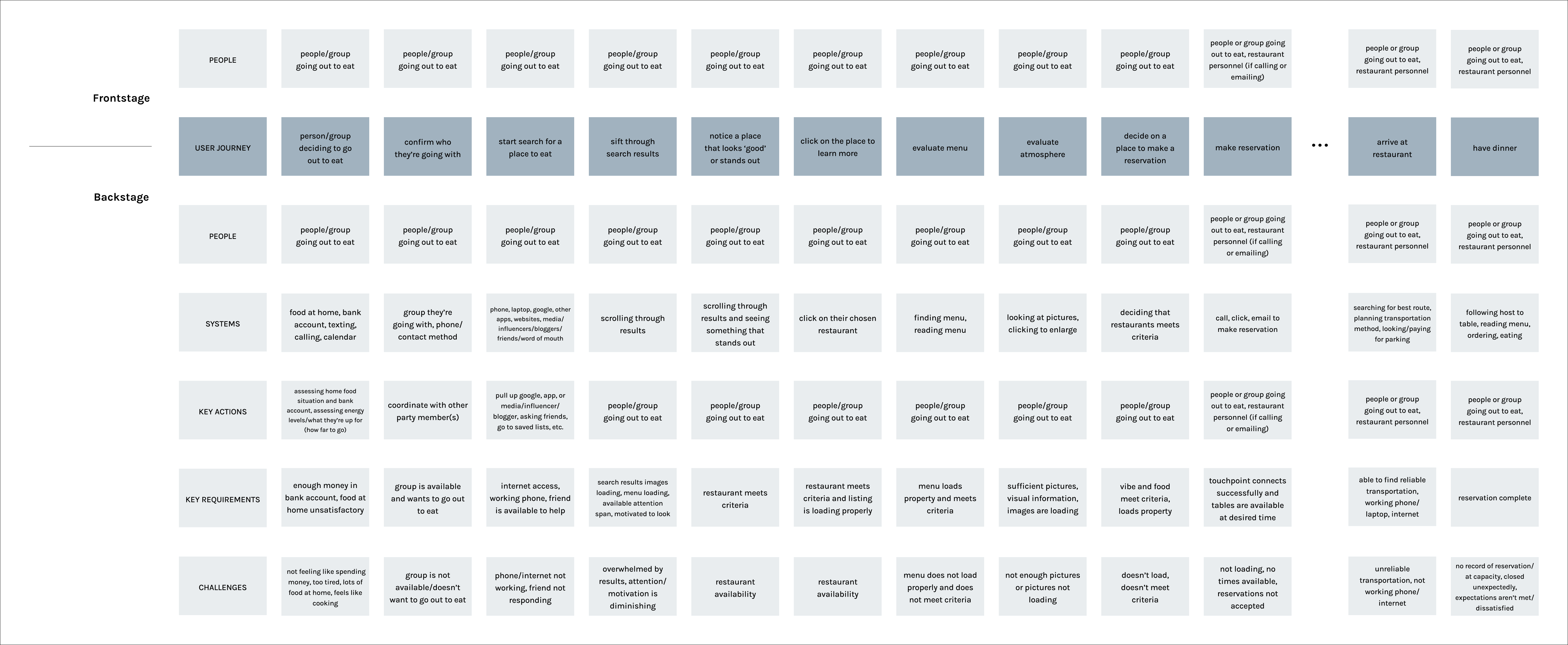 Concept Mapping
This exercise helped us contextualize our idea and think about it from a high level before getting into the nitty-gritty of wireframes. We brainstormed rough names for our concept and summarized it with a one-liner. Then we looked at user needs, metrics of success, use-case scenarios, and assumptions. We also took pen to paper and timed ourselves for 10 minutes to draw rough sketches. This exercise steered us toward our final concept: a website centered around a filter journey that gives the user a curated list of restaurants that satisfy their criteria (and tastebuds).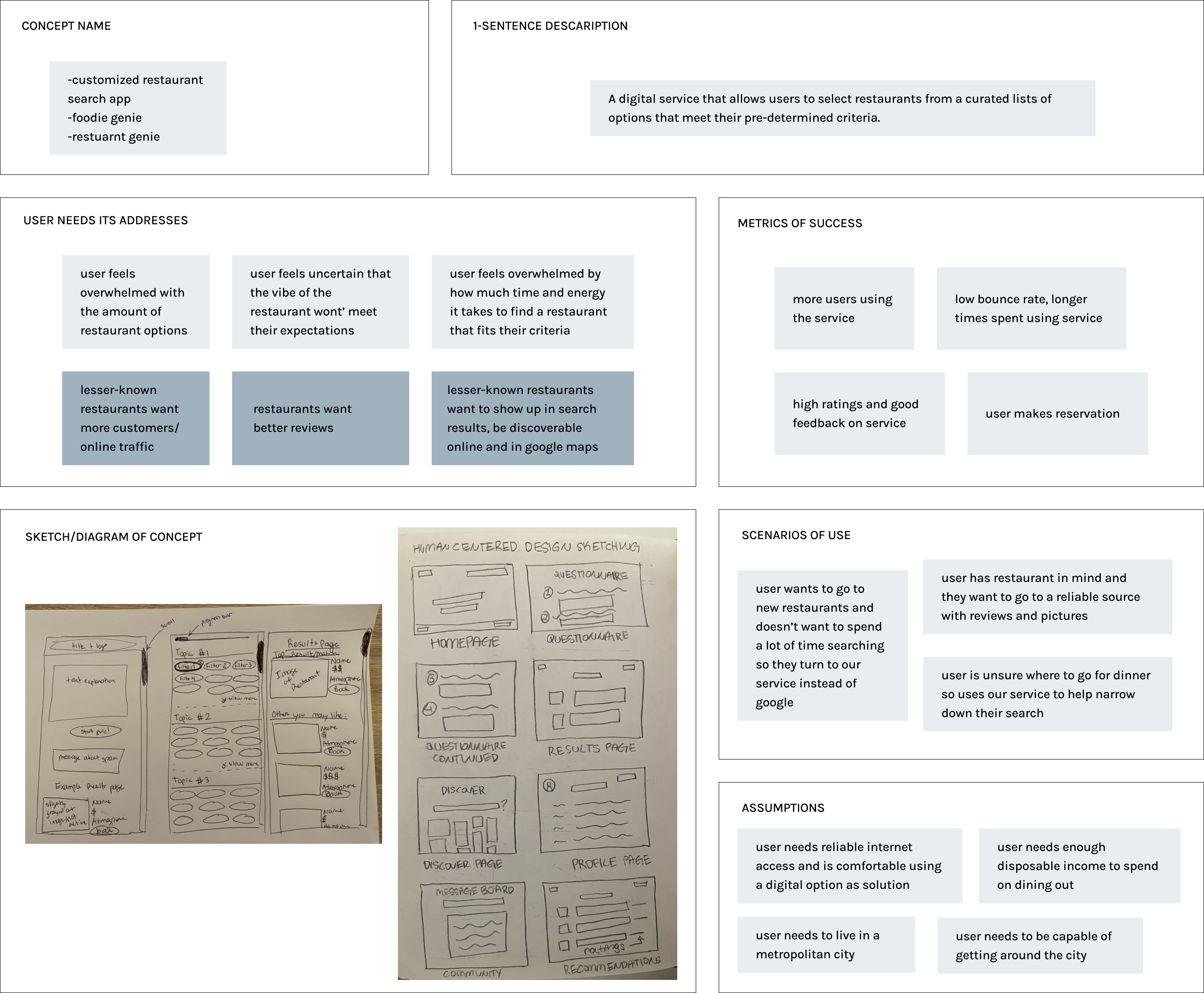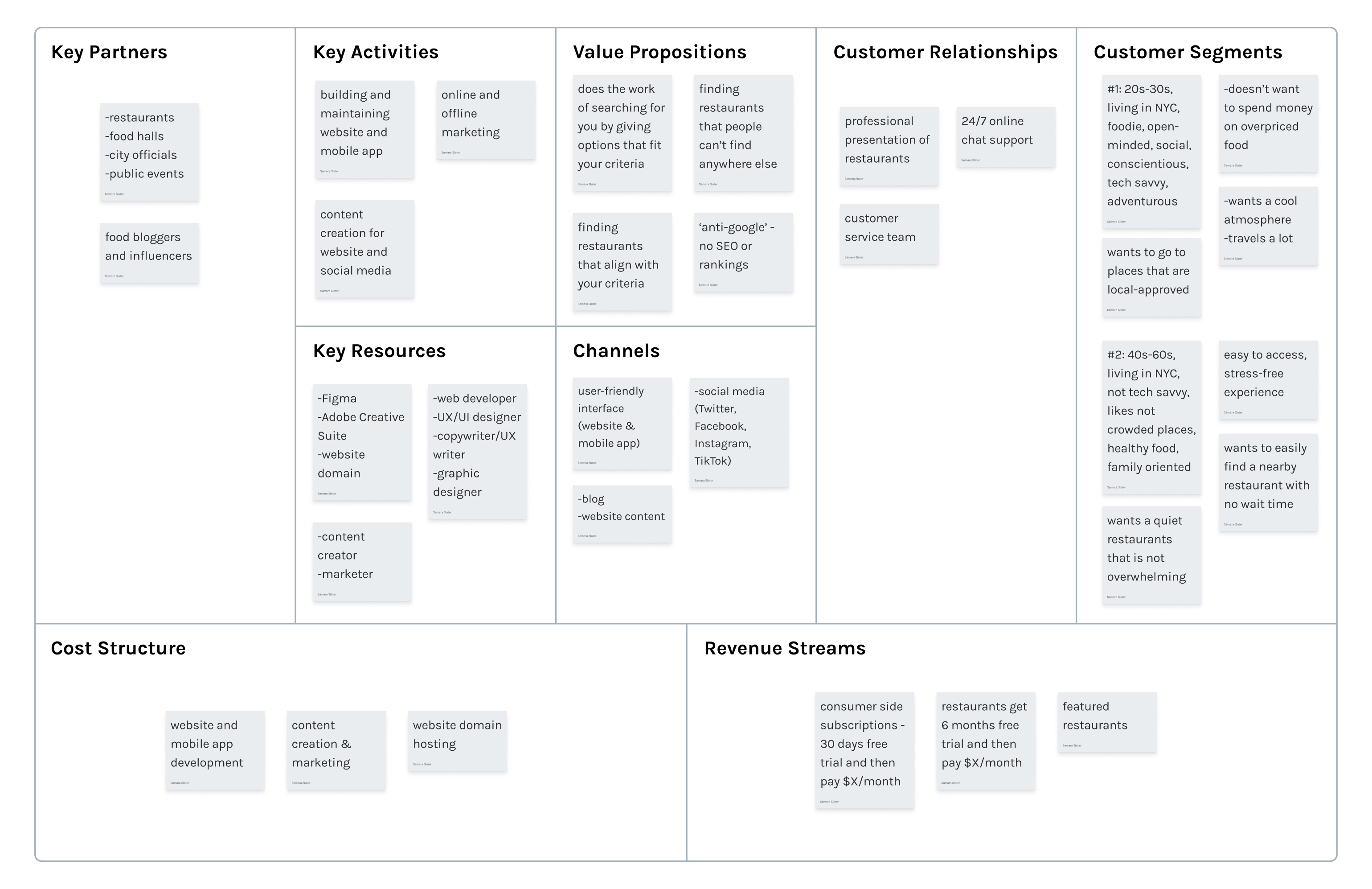 Business Model
We put together a business model to show how our product generates revenue and delivers value.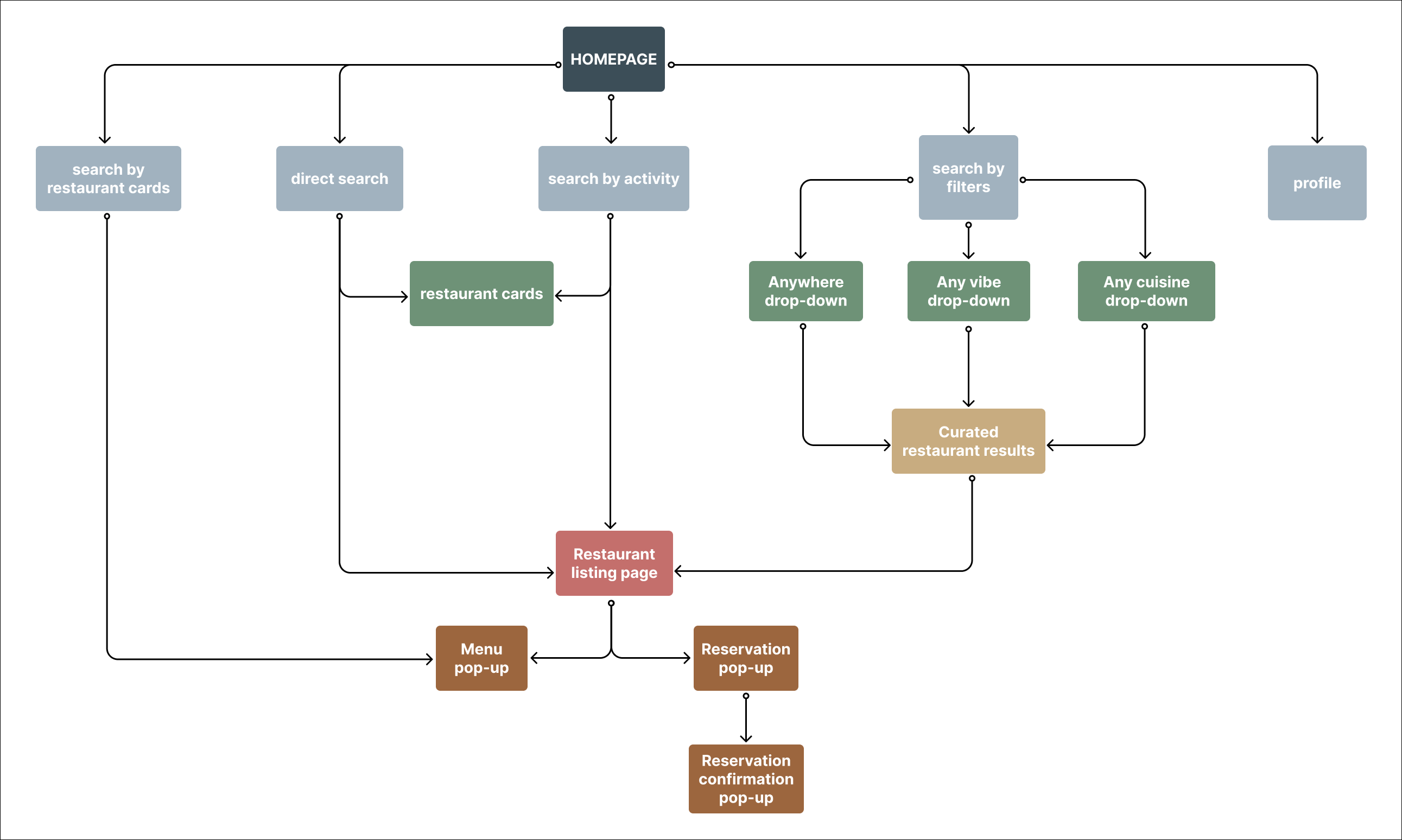 Site Map
We built a site map to establish a clear and logical information hierarchy for our user journey. Our goal was to minimize the amount of mental effort (i.e., searching) for restaurants by creating a step-by-step process of discovery that can be aborted at any time-all on the homepage for ultimate convenience.
We built lo-fi wireframes to visualize our solution and keep the user journey as the focal point. Since the vibe, type of food, and price point are important to our uses, we based our filter journey around those elements. Providing a suggested search method minimizes the mental effort required by guiding users to results that match their criteria. On the restaurant listing page, we designed menu, reservation, and confirmation pop-up windows to avoid taking our users outside the platform to complete their journey. 'Cause how annoying is that, right?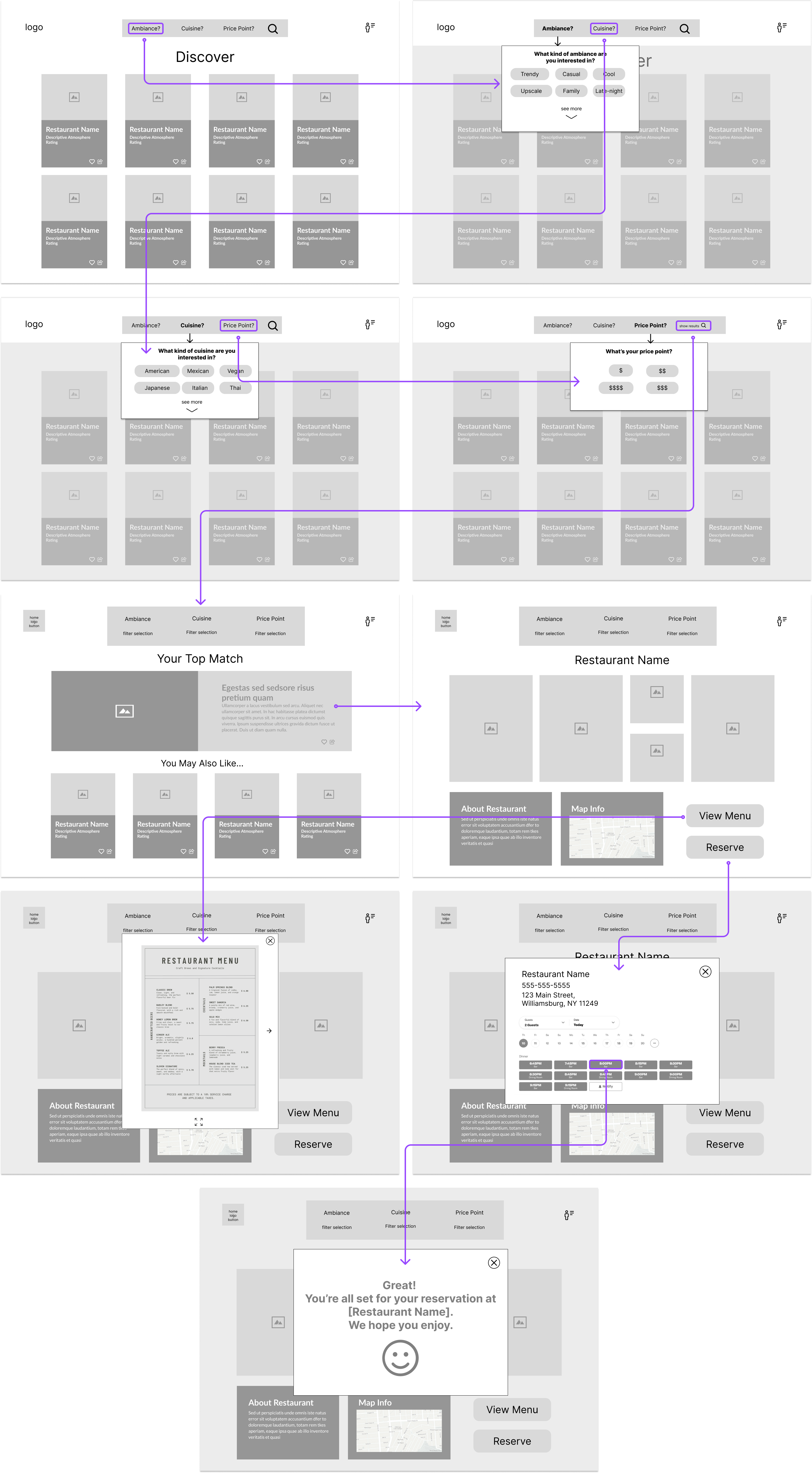 We asked our users neutral, non-leading, open-ended questions to allow space for honest answers and impressions of each screen. All user tests were unmoderated and conducted over Zoom. We chose to keep our prototypes in grayscale to help us focus on the user experience, identify points of friction, and then easily and quickly iterate on our prototype.
We prototyped our wireframes and focused on the primary user journey of making a reservation at a restaurant. The main component of the user journey is the filter bar: this allows the user to narrow down their options to restaurants that fit their criteria.
User Testing Round 1
The goal of our first round of user testing was to understand the following:
points of friction in the user journey

what our users' first action would be on each page

overall impressions of each page
Key Insights
make the filter journey more prominent to indicate that it's the primary action on the homepage

add activity categories and a direct search option for additional ways to explore restaurants

replace 'ambiance' with 'vibe' and position it as the second step in the filter journey

add 'location' to the filter journey because users consider this an important piece when looking for restaurants

add a carousel at the bottom of the restaurant listing page to show users other options that also fit their criteria
Updated Prototype
We implemented the key findings from our first round of user testing for the second iteration of our prototype.
User Testing Round 2
The goal of our second round of user testing was to determine if our changes made a positive impact on the user journey. We asked more specific questions to understand if the primary actions were clear at every step of the user journey.
Key Insights
add a map view to the results page so the user has the option to toggle between the list view and map view

add a search option to filter drop-downs so users can directly type in the location, vibe, or cuisine they desire

make the 'results' button clearer on the homepage by adding copy that says 'search restaurants'

change the results page to feature more than 3 restaurants because users thought that this was an underwhelming amount to choose from
Updated Prototype
We implemented the changes from our second round of user testing for the third iteration of our prototype. We used the MoSCoW method to prioritize which changes we wanted to add that would have the greatest impact. These changes resulted in a mid-fidelity prototype with a more cohesive user journey that satisfies our users' key pain points.
Hi-Fi Sneak Peek
Our hi-fi prototype is still in progress, but here's a teaser to show you what's to come.
Next steps
There is still a lot of work to be done, but we've laid down a solid foundation to bring Füdie to life. Here are the next steps we're working on:
1
Develop the style guide, design system, and other user interface components.
2
Conduct more user testing to measure the effectiveness of the core functionality of the platform: the filter navigation system.
3
Establish the brand tone of voice, writing style guide, and other copywriting and UX writing elements to complete the picture.
Learnings
Besides learning the value of human-centered design, collaborating with a partner every week on this project is the biggest learning I left with. I learned how to effectively communicate and justify my ideas, while also learning when to compromise and step down, but also step up when my partner needed me.
You made it to the end! For now...
Shoot me a message if you'd like to work together on something. Or just say hi :)